More websites, more problems? You could use a multisite
Managing multiple sites for one organization can be a challenge. Wrangle your sites under one roof to save time, resources, and your own sanity.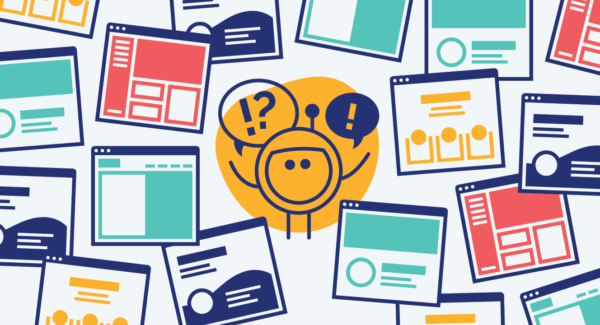 What is a multisite?
Are you in charge of multiple websites and looking for a better way to manage them? A multisite could be the way to go.
You may be at a college or university with a lot of departments.
Or a parent company for a number of different brands.
Maybe you own several restaurants that each need their own website.
No matter what your industry, you've likely felt the pains of managing many websites within one organization.
You may need a new web solution if you're dealing with:

Chaotic content authoring

– Your websites were built at different times by different teams, so there's no consistency in the systems your site authors use to enter content. This usually means that training website staff is a headache and the quality of content is lacking.

Inconsistent design and branding

– Your websites look completely different, even though they're part of the same organization or brand. Or, maybe your sites need to stand alone with a unique look and feel, but they're outdated and in dire need of a redesign.

No central tech support and maintenance

– Your websites are hosted and supported individually. Not only is this costly every time you need updates, there's also no central set of eyes ensuring all of your sites meet web accessibility and performance standards. 
So what's the answer?
A multisite brings everything under one roof
After seeing clients deal with these challenges, we wanted to make it easier for organizations to manage all their web properties — and make sure they look great and perform well, too. Enter: the multisite.
What is a multisite?
In the tech world, the term "multisite" can mean different things to different people. What we mean by multisite is a content management system that supports creating multiple websites from the same codebase of shared functionality. Think of it like a family — all sites share a core set of DNA, but each member has its own unique characteristics. 
A recent example is the WordPress multisite we created for the College of Fine and Applied Arts at the University of Illinois at Urbana-Champaign. Every academic unit in the college had similar content needs but needed significant visual difference to reach their unique audiences. The schools and departments vary widely in subject matter — urban and regional planning, theatre, art and design, architecture, and more — and value the individual expression of each discipline. So we created a system that allows each unit to customize the content and design of their site, but still fit within the university brand.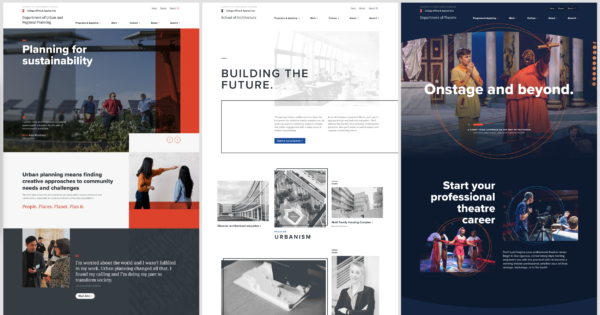 What are the benefits?
What are the benefits?
Two words: efficiency and consistency.
With a multisite, you get a set of tools that can be shared across all websites for content authoring, design, and maintenance — which keeps you from reinventing the wheel with every website.
These shared tools include:
Standard user roles and permissions

to streamline how people access and author content. A central admin team can log in and have access to support all sites if needed.

A core set of page types and content components

that content authors can choose from. For a university client like the UIUC College of Fine and Applied Arts, we identified content types every site needed — such as news, events, faculty bios, course listings, etc. — that we could build once and make available for all to use. This is an efficient use of development time, and because every site uses the same content types and author interface, training content authors is much easier too. 

A core set of visual style elements

, such as color and typography, that each website will draw from when establishing their individual design. But this doesn't mean all sites have to look the same! Styles can be uniquely applied to each site if they need a custom design (as with the College of FAA example above), or standardized for a uniform look — this flexibility is a real benefit of having a multisite. Another benefit of establishing core styles is that it ensures all your sites use accessible color/type combinations that can be read by people with color blindness. 

Shared codebase,

which means centralized development of features. This means when new features are developed, they're available to all sites; when bugs happen, they only happen in one place. You can have one technical team who knows and can support the single platform, rather than duplicating efforts for individual sites.
Who's a good fit for a multisite?
A multisite works best for organizations whose sub-units have similar content but need their own websites to reach their unique audiences. Our clients often have a central communications team overseeing the web effort, with content authors responsible for day-to-day site updates within each unit. That said, a multisite could be a fit for a smaller organization too, depending on your needs.
Examples include:
Colleges or universities with multiple departments

K-12 school districts with multiple schools

Government bodies with multiple departments

Parent companies with sub-brands

Owners of multiple stores/restaurants/bars
With a multisite, you get the best of both worlds: features that are custom to your organization's needs, but are reusable for each website you manage. This gives you consistency, efficiency, and better use of resources in the long run.
Wondering if a multisite might work for you?
Join us for a webinar on Thursday, March 24, 10 a.m., when we'll show you the inner-workings of a multisite platform. Follow Pixo on LinkedIn for registration details.
You can also get in touch anytime — we'd love to help you figure out the best website strategy for your organization.