Nothing talks to each other: Solving the problem of connecting multiple systems
When hardware and software are "talking" to each other, that conversation introduces a lot of complexity. We uncover true insights about your users to guide us.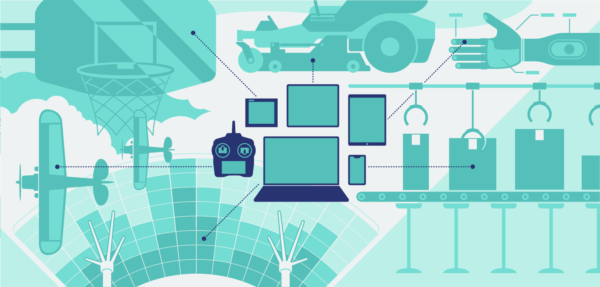 Combining our know-how with your needs
We often hear from clients that a major barrier in their business is that "nothing talks to each other." They have multiple systems that, if only they were seamlessly connected, would make a big difference in their operations or product development.
Is that what's happening in your world? Maybe the device you manufacture could use an intuitive user interface. Or you need two devices to talk to each other to improve your processes and reach your goals. Whatever your unique case, we specialize in this kind of project — building software, like an app or interface, that connects to hardware, and vice versa.
Projects like these require a lot of consulting to get right. When you have multiple systems and nothing talks to each other, connecting them introduces a lot of complexity. On top of that, this kind of engineering work can be challenging, because revisions to hardware itself can be prohibitively expensive.
The power of consulting comes from combining our engineering know-how with your industry expertise and business needs. We uncover true insights about the people actually using your hardware and software to make solid development decisions together from the beginning. Our mix of strong engineering experience, a rich understanding of users, and our commitment to not cut corners has led to creative solutions for clients in many industries, including manufacturing and agtech.
In the past few years, we've…
Upgraded a radio controller used to fly remote control airplanes and connected it to a touchscreen device that made the controls easier to use
Developed a cross-platform mobile app that sets configuration settings for prosthetic hands, controlled by a myoelectric body interface
Built a web app that runs diagnostics on 64,000 LED modules that work together to form a giant (and we mean giant) display
Prototyped a control interface to adjust settings on zero-turn mowers without the need for tools
Designed and developed an interface that controls permanent equipment in school gyms
Created an embedded Android interface within a scanning device to help a manufacturer scan and manage their shipments
For projects like these, our team of strategists, user experience designers, and engineers collaborate with business owners, research and development teams, startup founders, and anyone invested in creating useful products that make life and work easier.
Do you have a project you'd like to explore, or want to improve the user experience of your existing software? Get in touch.