Why I became OOUX-certified
The object-oriented user experience (OOUX) methodology is now core to my work as a UX designer to break down complex systems.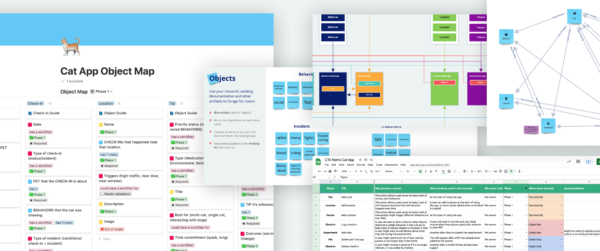 Intro
As a UX designer, I'm constantly thrust into new domains and learning about problem spaces I've never encountered before.
While I love that about UX, it's also intimidating and overwhelming sometimes, which is why I'm so excited to become certified as an OOUX strategist.
What is OOUX?
Object-oriented user experience (OOUX) is a methodology to "break down complexity, understand convoluted business requirements, synthesize research, and facilitate collaboration with stakeholders, SMEs, and developers," according to the OOUX website.
I was first formally exposed to OOUX when I participated in a Rosenfeld Media workshop last summer led by Sophia Prater and Bram Wessel.
What OOUX certification involved
During the 10-week certification program, I digested pre-recorded video lessons, completed homework assignments, met with other members of my 34-person cohort as well as worked on my "test" project. I also had an individual mentor who,  along with Sophia, reviewed my assignments and met me for one-on-ones.
For my test project, I untangled the complexities of an app that helps cat owners track and understand problematic cat behavior — like urinating outside of the litter box. 
It was a lot of work, but I'm so glad I made the time to follow through with each step of the process and pass my certification exam. The real gift is how these methodologies have become the backbone of my day-to-day work as a UX lead, supporting me when scoping new projects, or communicating with my teammates and building a larger shared understanding of a system and direction.
Questions? Reach out!
If you're considering earning OOUX certification, please reach out; I'd be happy to share more about my experience.