E-resources portal for libraries in Illinois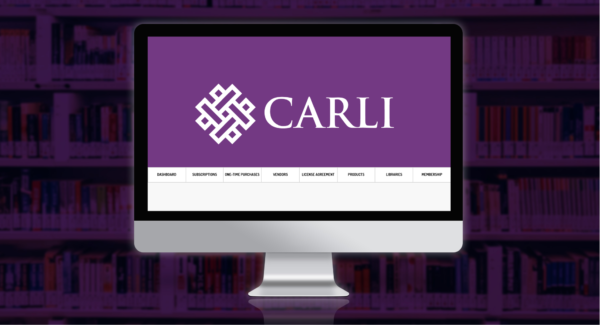 Summary
The Consortium of Academic and Research Libraries in Illinois (CARLI) is a shared services organization that provides software, support, and electronic resources for academic libraries in Illinois. When CARLI needed to replace the portal for libraries to purchase these services, they selected Pixo based on our experience translating complex workflows into user-friendly web applications.
The challenge: Understanding workflows and stop-gaps
Librarians use the CARLI portal to select e-resources that they want to purchase, but the existing system did not accommodate many other parts of the workflow required to complete the process. A series of spreadsheets and email communications were used as stop-gap measures, making it an extremely inefficient operation that could derail at many points. This inefficiency had been a source of much frustration for all users, including vendors, librarians, and CARLI staff.
Pixo first performed a discovery phase to understand the problems in more detail. Our research highlighted potential challenges, including:
Volume, complexity, and variability of the data

Need for flexibility, such as product name changes and merging of member libraries

Large amounts of vendor data that have to be ingested 

Transactions worth millions of dollars annually 

Sensitive proprietary and confidential information
The solution: A suite of complementary custom apps
Rather than rely on one product to do it all, we delivered a suite of three applications to manage the brokerage workflow for all of the academic libraries in Illinois. The suite includes an application for the office staff to manage all data, an application for vendors to log in and set pricing, and a "shopping cart" application for librarians to select products. The applications included roughly 40 screens, some with massive amounts of data that required special handling outside of the framework for which we built a custom API and data storage layer.
The result: More efficiency, easier communication
We launched the system in 2015 and have been collaborating with CARLI to provide regular maintenance, enhancements, and new features to the system. The CARLI team has reported:
gains in efficiency with less time spent manually inputting data, 

easier communication with vendors and librarians who use the system, 

no more headaches for the small internal IT team that was maintaining the homebrew system, 

and more comprehensive reports from the data in the system. 
Additionally, because we built the system to be flexible and scalable, we have made many enhancements to adjust to changing needs identified by the CARLI team.