Multisite platform for a vibrant fine arts college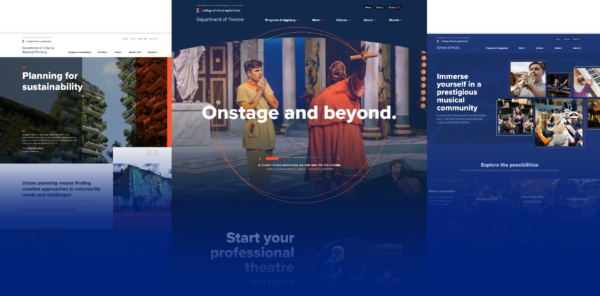 Summary
The University of Illinois College of Fine & Applied Arts offers renowned programs in multiple art and design disciplines. When the college marketing team came to Pixo, they were hindered by several standalone sites for each program that were hard to navigate, hard to update, and inconsistent with the university brand. We equipped them with a multisite platform that makes content and site maintenance much easier, as well as a new design for each program website to better connect with prospective students.
The challenge: Eight websites going solo
To create a strategy for eight separate websites (the college + seven academic unit sites), Pixo conducted discovery research to understand the college's and each unit's unique audiences and struggles. Activities included:
Audience interviews

to define clear use cases for every feature we build

Stakeholder interviews

to understand organizational goals and pain points in the content and website management process

Messaging workshop

and

design gut test

to align stakeholders on voice, tone, and visual

look for the new sites
The seven programs suffered from the same challenges: every site was built with different technology, making content authoring and tech support a headache — and there was no visual or brand consistency between them, a missed opportunity for the college.

Our research revealed that every academic unit had similar content needs, including degree information, faculty bios, research, news, and events. They also had the same primary goal: to appeal to prospective students. But just as the schools and departments vary widely in subject matter — from design to dance to architecture — so do their audiences. And as an arts college, they placed a high value on the individual expression of each discipline.
The solution: A multisite platform
Considering the overlap in content needs but the desire for visual difference, we designed and developed a multisite platform solution in WordPress for FAA.

A multisite is a content management system that supports creating multiple websites from the same codebase of shared functionality. With a multisite, you get a set of tools that can be shared across all websites for content authoring, design, and maintenance.
These shared tools include:
Standard user roles and permissions, allowing the college admin team to support content authors in academic units if needed

A core set of page types and content components that content authors can choose from

A core set of visual style elements, such as color and typography that each website draws from

Shared codebase, allowing centralized support and maintenance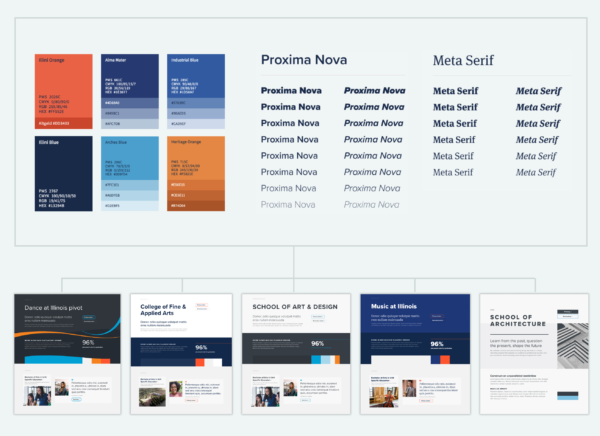 The result: More consistency — but with flexibility
Think of it like a family — all sites share a core set of DNA, but each member has its own individual characteristics. The multisite allows each department site to have a unique visual design, while still adhering to overarching university brand guidelines and accessibility best practices.
Each site has access to the same core set of design elements
Each site has access to the same core set of design elements, but we worked with each unit to customize the look and feel to reflect their personality and reach their unique audiences.
The multisite approach meant the budget was spent wisely because we didn't have to reinvent the wheel for each site. While the look of page types, such as landing pages and listing pages and content components, might be styled differently, the code is largely the same.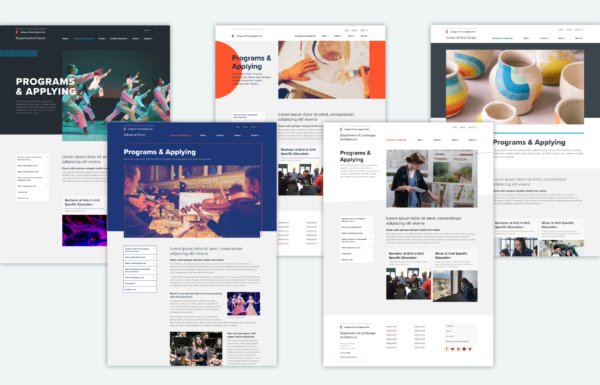 The college will continue to see efficiency in the long term
The college will continue to see efficiency in the long term with the standard user roles and shared codebase, which empowers them to spend fewer resources on staff training and tech support, and more time creating content that showcases their programs and connects with their audiences.
See the websites: