Website redesigns drive economic growth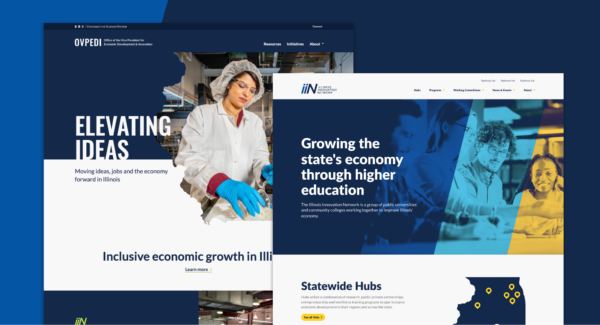 Summary
The Office of the Vice President for Economic Development and Innovation (OVPEDI) and the Illinois Innovation Network (IIN) serve vital and inspiring missions — harnessing the innovation capacity of Illinois universities to drive economic impact throughout the state and beyond. Redesigning both websites in tandem allowed us the multi-angle perspective to make sure we created a comprehensive view of both.
The challenge: Connected organizations with different audiences 
The two organizations are connected administratively, with the IIN emerging as a signature project of the OVPEDI office. Pixo needed to help these separate but connected organizations communicate their connection while also targeting different audience groups.
The solution: Separate sites informed by audience research
We began by clarifying the sites' respective audience groups and content priorities. The IIN's goals of fostering collaborative research require them to share both foundational content and timely updates with a broad range of audiences in Illinois, from researchers to lawmakers.
The OVPEDI website, by contrast, needed to provide evergreen information to a narrower audience group.
To determine a user-friendly site structure and messaging, our content strategist collaborated with stakeholders and interviewed intended audience members. Stakeholders engaged with visual design to build a complementary vision for the new websites, and content strategy and engineering collaborated on a clear back-end interface for content authors.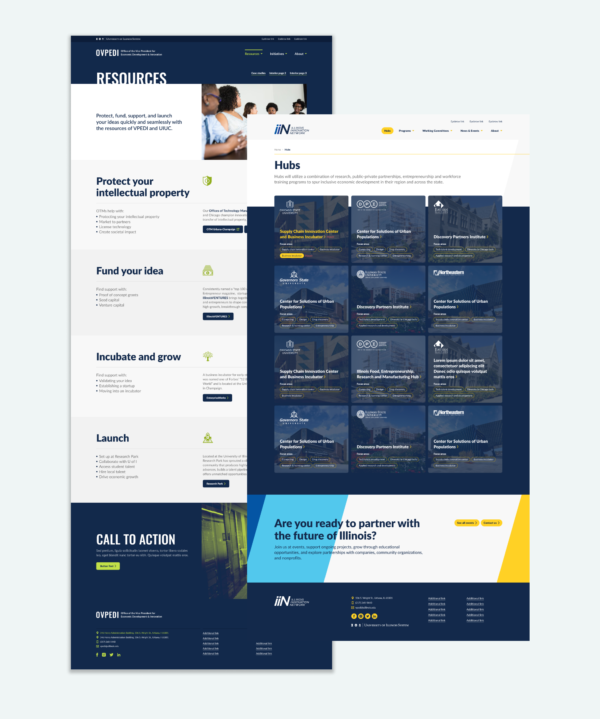 The result: Clear messaging with visual impact
Pixo delivered two websites that communicate a clear purpose with an engaging graphic style. We also made sure to create user-friendly admin interfaces, so the client would have fewer barriers to keeping their content up to date.