Scheduling system modernizes student career services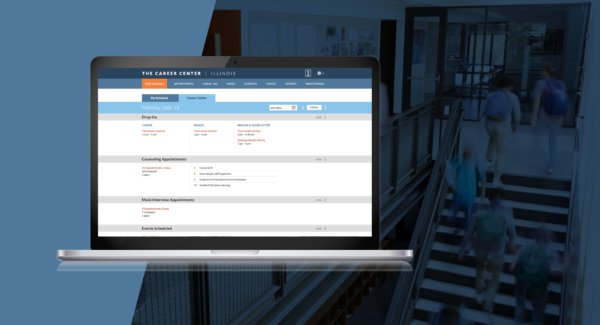 Summary
The Career Center at the University of Illinois helps students plan for their futures, providing guidance on job searching, resume writing, and interviewing. The database that powered these services needed a modern makeover to keep up with student demand and improve their experience.
The challenge: Ad hoc processes create chaos
Students engage with The Career Center from freshmen orientation all the way through landing their first internship or job. The busy center lacked a central system to keep track of these appointments, relying on an outdated database and scheduling through front desk staff. This created more work for staff, inconsistent records, and a less than ideal student experience.
The client needed a custom application that could not just schedule appointments but collect data about each student interaction. Without this data, students could not count on continuity between appointments, especially if they weren't able to meet with the same career coach for each visit. And, staff wasn't able to effectively report on student outcomes to evaluate the services they provide.
The solution: One system to reach multiple goals
To understand how a new application could make a meaningful difference, the Pixo team dove in to fully understand the array of services and workflows. We spent time at the center observing activities and talked in-depth with staff and students.

After our research, we concluded together that the new tool should:
Enable students to make appointments on their mobile devices.

Allow students to scan their ID at a kiosk upon arrival to check in and enter the queue for the appropriate staff member.

Give staff a place to input notes and follow-up on action items from previous visits to keep record of students' interactions with The Career Center throughout their time at the university.

Provide counselors with a wealth of data to measure the impact of their services and publish regularly on their effectiveness.
Once we understood the gaps in processes, we could ensure this new system accommodated students and staff. We developed a custom application using the PHP/Symfony and the AngularJS framework to meet the highest priority needs.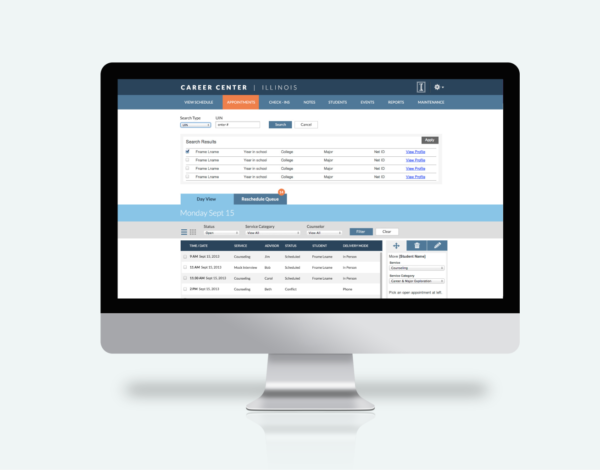 The result: Easier advising for both students and staff
For The Career Center, this major upgrade in technology has led to less chaos. Students no longer have to call or drop in to make an appointment, so with fewer phones ringing and people in the door, front desk staff have more time to help those arriving for appointments. 
This upgrade also means a better use of students' time. They can relay the reason for their visit while self-scheduling, which helps counselors tailor their appointment ahead of time to cover those topics.
And, the new system saves staff from a steep learning curve. Between the documentation provided by Pixo and the more intuitive interface we designed, getting new users up to speed on the app and the center's scheduling processes goes a lot more smoothly.