User interface app for a portable soil test system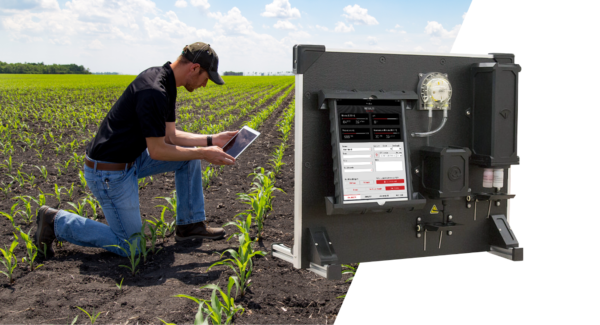 Summary
360 Yield Center makes products that help farmers increase accuracy and efficiency in the field. One of these is 360 SOILSCAN™, a portable system that helps growers determine how much nitrogen application the soil needs. Initially, the tool's rudimentary control panel fell short with users, so the company came to Pixo for help.
The challenge: Make a tool easier to use without changing the tool itself
With 360 SOILSCAN, the company brought an innovative product to market, but the control panel was not intuitive. Redesigning the device's control panel itself wasn't an option, so we created a sleek and simple-to-use iPad application that could communicate with the device over Bluetooth. The ease of use and easy connectivity increased the adoption of the device.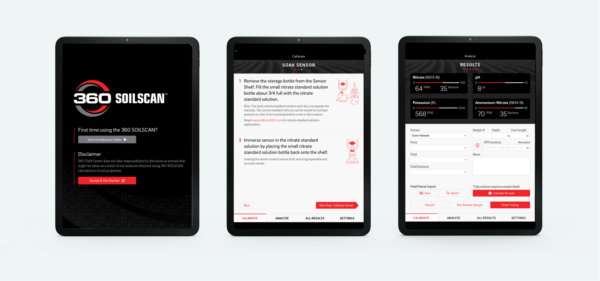 The solution: Get to know real users and focus on meeting their needs
Our UX team started by observing growers and agronomists in the field to see how they interacted with 360 SOILSCAN™. We identified common problems and constraints, such as low connectivity, glare, small buttons, and the potential for many distractions between tasks. Once we understood how the early adopters were using the device and the context in which it operates, we began planning improvements.

Pick back up instantly
A major takeaway from our discovery interviews was that agronomists worked on multiple 360 SOILSCAN™ machines simultaneously to speed up field evaluation. This led to a key design decision: Clear steps and instructions that allowed users to step away from the application mid-process yet instantly see their progress and next steps when they return.

Self-healing database
The interface application was built using Swift to send commands and receive measurement data from the device via Bluetooth Low Energy. Once sampled, the results are stored in an in-app database that replicates its data to a private cloud database. This allows the data to be shared among many devices and applications in the 360 Yield ecosystem. 

Easy data export
The application supports the automatic export of CSV and PDF reports through various cloud services such as Google Drive and Dropbox, as well as directly to a computer via iTunes.
The result: An app that increases productivity
The new interface is modern and sleek. It walks the grower, step-by-step, through preparing the soil sample to getting an accurate nitrate ion count, which enables faster decisions about the effective use of fertilizer. The key to success with this product was fully understanding the users and the operating constraints before designing the interface and making platform decisions.